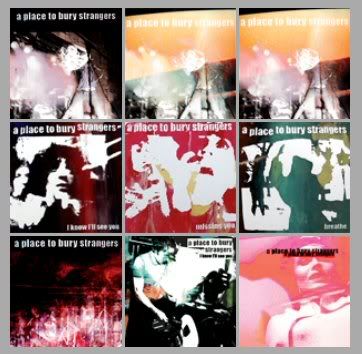 A Place to Bury Strangers (aka, "The Loudest Band in NYC" which they are, many nights in NYC left my ears completely numb thanks to them, but of course it was worth it) launch their UK/European tour in Nottingham on 6th November. The tour is to help promote their new album,
Exploding Head
(which I bought the other week, and suggest you do the same!). Their Cardiff date on the 8th November will be with support by Dublin's
The Brothers Movement
(formerly Mainline), who are amazing in their own right. Most of the UK dates however will be supported by Canada's
Japandroids
, followed with a date in Milan with
Gringo Star
and then a performance at December's
All Tomorrow Parties' Nightmare Before Christmas festival
in Minehead, England.
UK/European dates are:
6 Nov Bodega Social Nottingham UK
7 Nov Flapper Birmingham, UK
8 Nov Barfly^ Cardiff, UK
9 Nov Whelan's* Dublin, Ireland
11 Nov Auntie Annie's* Belfast, Ireland
12 Nov The Captain's Rest* Glasgow, UK
13 Nov Digital (club night)* Newcastle, UK
14 Nov Moho^* Manchester, UK
15 Nov Cockpit^* Leeds, UK
17 Nov Portland^^ Cambridge, UK
18 Nov Garage^^ London, UK
19 Nov La Maroquinerie Paris, France
20 Nov Paradiso - London Calling Amsterdam, Netherlands
21 Nov Botanique Orangerie Brussels, BE
22 Nov Le Grand Mix Tourcoing, FR
24 Nov Ubel & Gefahrlich Hamburg, Germany
25 Nov die Werkstatt Cologne, Germany
26 Nov Guess Festival Utrecht, Holland
27 Nov Vera Groningen, Holland
28 Nov Museumskeller Erfurt, Germany
29 Nov Beatpol Dresden, Germany
1 Dec Magnet Berlin, Germany
2 Dec Le Romanidie Lausanne, Switzerland
3 Dec Magnolia** Milan, Italy
4 Dec Munich, Germany
6 Dec All Tomorrow's Parties Minehead, UK
11 Dec Sala Caracol Madrid, Spain
12 Dec Sala Apolo Barcelona, Spain
13 Dec LA2 Barcelona, Spain
^ with Japandroids & the Brothers Movement
* with Japandroids
^* with Japandroids & Sad Day for Puppets
^^ with the Brothers Movement & Sad Day for Puppets
** with Gringo Star
Lastly, their new video for "In Your Heart", from the album
Exploding Head
A Place To Bury Strangers' myspace