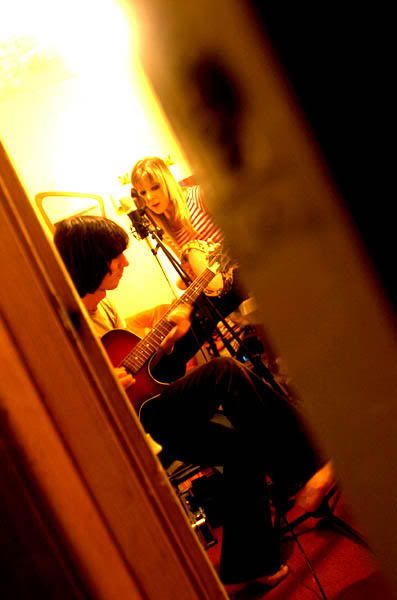 The Lovely Eggs, who are currently promoting their Halloween single, "Haunt Me Out" (available
on CD via Cherryade Records
, and also iTunes) sat down to answer a few questions....
How did The Lovely Eggs come about?
The whole reason we started was a drunken dare!
I (David) was visiting Holly who was living in Paris. We just started writing some tunes for a bet because Holly's friend Becky didn't believe we could write a song between us! That song what we wrote was called "Last Train To Ballard", a true story about Holly falling asleep on the Metro and waking up at the final station in an empty train where she had to get let out by the cleaners and find her way across Paris to her flat.
Where do your rehearse?
Well, we rehearse at a place called Lancaster Music Co-op. It's brilliant, non-profit making and David works there!
What was your best gig so far? why?
To be honest with you, in the last couple of years we've played so many gigs in so many bizarre places it's hard to choose! But recently the gig at Indietracks festival was amazing as it had such a good vibe! There are bands playing on steam trains and we played in a really old wooden church which looked like it belonged in America. We love playing places that look like they belong in America!
And the worst gig? why?
We've not had many bad gigs as we try and make gigs like a party and have lots of fun. Washington DC was quite scary and we saw a rat in the alley way!
When you guys are just hanging out, what music are your most likely listening to?
Well, in the evening we listen to 6 music as lot (especially Marc Riley's show) just to hear some new stuff, really. Marc Riley is into a lot of good stuff (old and new), but other than that we've been playing the new Jeffrey Lewis album a lot recently and some classics like Jonathan Richman and the Velvets. It just depends what mood takes the fancy!
What was the first album you ever bought?Holly:
I know the first single I ever got was theme tune from Fraggle Rock, not sure what album it was, but probably something like Michael Jacksons' thriller!
David:
I think the first album I ever got was Joseph and his Technicolour Dreamcoat!
Any weird phobias and/or band superstitions?
Holly is frightened of buttons and David is frightened of giant pins! We have a mutual fear of Haberdashery!
What's your band's fashion sense/style? Any favourite clothing shops?
We do most of our shopping in Charity shops! Our favorite is St Johns Hospice on Church Street in Lancaster. We love anything that's old and has a story!
Describe your fanbase in 3 words:
Where are they?
If you could be any other person for a day, who would you be? David:
Elvis Presley, cause we've just visited his house and it made you wonder what his life must have been like!
Holly:
Elizabeth the 1st cause I'd like to know what it would be like to have Henry 8th as a dad!
What's better - downloading, still buying CDs, or collecting vinyl?
Collecting vinyl, but we are still doing the cd thing because our turntable in the front room won't fit in, size wise that is!
Best band you've seen live?Holly:
It's a toss up between The Make up, Sonic Youth and Jonathan Richman, but Hotpants Romance are pretty ace too
David:
The Fall, Grandaddy, Sonic Youth, there are so many!
Is there anything (previously unknown) about your band that you'd like to share with the world?
We have an unhealthy obsession with Twin Peaks.
Tell us something interesting about your hometown:
It's a spooky place with a history of witches
And share a story from the road:
We once played in a scrap yard outside LA and Holly thought David had disappeared and got kidnapped by a serial killer, but he just went to a gem rock museum.
Thanks Holly and David! x
Watch:
The Lovely Eggs' music video for "I Like Birds But I Like Other Animals Too" on YouTube
The Lovely Eggs' myspace